Everyday Eating
A Modern Diner Experience
Named for Chef Titter's fun-loving and adventurous food critic son, Max's is your daily go-to brining back the old school style of "everyday eating". Max's is an accessible "foodie" destination, re-imagining tried and true favorites with a nod to Lancaster's unique tastes. We are proud to be a part of the vibrant Lancaster community and your choice for parties, quick bites, or great entertainment memories!
Location
38 W King St
Lancaster Pa 17603
Hours
M-Th 8a–9p
Fr-Sa 9a–1a
Su 9a–3p
Order online and have it ready for pick-up wherever your day takes you! Max's makes the best breakfast meeting meal, quick lunch on the go or easy dinner to bring home to friends and family!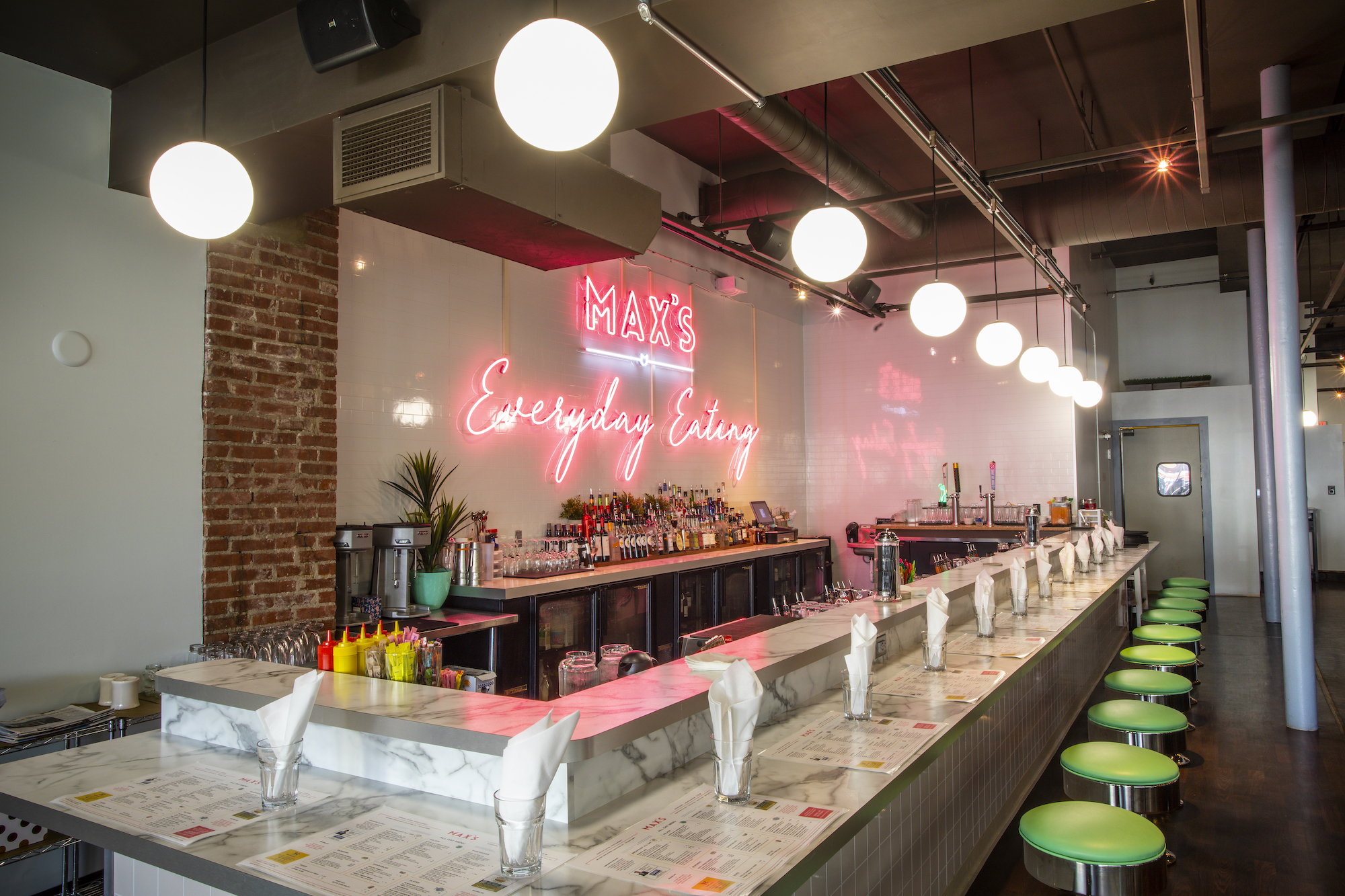 $

7
Steel Cut Oatmeal
Almond milk stewed steel cut oats with chia seeds and finished with crunchy granola
Add seasonal fruit compote $2.00
$

6
Cereal Bar
Mix and match your own cereal awesomeness as many times as you would like
$

9.75
Burrito Jefe
Hot sausage, scrambled eggs, crispy tots, and caramelized onion, warm tortilla, topped with salsa verde and queso fresco
$

14.00
Crab and Spinach Omelet
Finished with parmigiano reggiano and your choice of side
$

9.50
Sweet Potato Hash
roasted sweet potatoes and market veggies topped with salsa verde with add
Sunny egg $1.00
Grilled chicken $3.50
Grilled shrimp $5.00
$

9.25
The Move
Southern style sausage gravy over your choice of biscuit, waffle or tots and topped with a sunny egg
$

8.50
Pig in a Poke Biscuit Sandwich
Black Forest ham, egg and American cheese on a fluffy biscuit
$

12.00
Corned Beef Hash
House made corned beef, fingerling potatoes, peppers, onions and thyme, topped with a sunny egg
$

5.50
Single Waffle
Additional waffles can be stacked!
Add seasonal fruit compote $2.00
$

11.50
Horse and Buggy
A waffle stacked with crispy scrapple and a sunny egg, topped with black pepper hot maple syrup
$

10
The Vinny
A waffle sandwich with sausage, egg and cheddar cheese and your choice of a side
$

12.00
Chicken and Waffles
Crispy fried chicken on a waffle with black pepper syrup
$

12.00
Madame Cristo
A waffle layered with Black Forest Ham and Swiss cheese, topped with a dijon cream sauce and a sunny egg
$

10.00
El Toro Loco
A smashburger between a waffle, with cheddar cheese, bacon mayo and pickled Jalapenos
$

8.75
Quick Cluck (3.0)
Griddle buttermilk herb marinated chicken breast, cheddar cheese, sliced tomato, banana peppers and bacon mayo on a toasted roll
$

9.00
The Gobble
House roasted turkey on a toasted pretzel roll with herb mayo, bacon, lettuce, tomato and a hard cooked egg
$

10.00
Crispy Catfish Po' Boy
Crispy cornmeal crusted catfish, butter grilled Alfred and Sam's hoagie roll, Connor sauce, lettuce and tomato
$

9.50
That's a Nice B.E.L.T…. Sandwich
Classic egg salad, crispy bacon, lettuce and tomato on toasted whole grain bread
$

9.50
Grilled Cheese Situation
Butter grilled white or wheat with American cheese, tomato and bacon
$

12.00
The JAWNwich
Italian braised beef brisket, onions and sharp provolone on a toasted Alfred and Sam's hoagie roll, with garlic spinach and pickled fennel
$

12.00
Smoked Salmon 'Tartine'
Toasted pretzel roll, whipped lemon and chive goat cheese, pickled red onions, cucumbers and 'everything' spice
$

8.00
Smash Burger
Single smashed and griddled beef patty on a butter grilled Alfred and Sam's Roll with pickles and chips
Double $14.00
Triple $18.00
$

9.00
Patty Melt
Toasted tolero roll, caramelized onions, Swiss cheese, sliced tomatoAnd Connor sauce
$

7.50 | lg $11.00
Maxed Out Caesar
Crisp romaine, parmigiano reggiano, hard cooked egg, basil caesar dressing, garlic pretzel croutons
$

8.00 | lg $11.50
The Wedgie
Crisp lettuce, blue cheese, crispy shallots, bacon bits, tomatoes and blue cheese dressing
$

7.50 | lg $11.00
Demeter's Greek Salad
Romaine and iceberg lettuce with cucumbers, tomatoes, olives, pickled red onions, banana peppers and feta cheese with Max's greek goddess dressing
Add a smash burger or shrimp $5.00
Add grilled chicken $3.50
$

7.50
Feeling Cheezy
Crispy tots, crinkle cut fries or onion rings… topped with creamy mornay sauce, bacon and scallions
$

5.50
Deviled Eggs
Pickled asparagus, smoked paprika and chives
$

6.50
Crispy Onion Rings
With a side of spicy mary rose dip
$

6.50
Chips and Dip
House ranch dip with crispy shallots, kettle chips, carrots and celery
$

9.00
Chili Fries
Golden Waffle Fries or Tots topped with Dino's Chili, Cheddar, Scallions and Lime Sour Cream
$

9.50
Market Veggie Burrito
Seasonal market veggies, rice and roasted shrooms in a warm tortilla, finished with our salsa verde (Vegan, Vegetarian)
$

9.00 | lrg $13.00
Frito Pie
Dino's 25 ingredient chili piled on top of corn chips, with lime sour cream, cheddar cheese and scallions
Add sunny egg or pickled jalapenos $1.00
Add grilled chicken $3.50
$

15.00
Catfish
Seasonal market veggies tossed with white rice and a creole mustard cream sauce
$

15.00
Seafood Puttanesca
Shrimp and crab tossed with linguini, diced tomatoes, bell peppers, sweet onion and olives
$

15.00
Mac and Cheeser Meal
Pipette pasta coated in a creamy cheese mornay sauce. topped with a buttered crumb top, served with a side of seasonal market veggies (Vegetarian)
Add beef brisket $4.00
Add grilled shrimp or crab $4.50
Add grilled chicken $3.50
$

15.00
Chicken Puff Pie
Slow cooked chicken stewed with peas, carrots, celery and onions & topped with a square of herb puff pastry
$

16.50
Cow on a Raft
Sautéed beef tips with mushrooms, caramelized onions and garlic compound butter on country toast, finished with smoked blue cheese and chives
Call (717) 984-6286, book online (above), or book on Open Table (above)
Reservations are not required, but recommended for parties over 6
Order Max's To-Go and pick up in-store at Max's. You can even schedule when you want you grab your order, making catering even easier!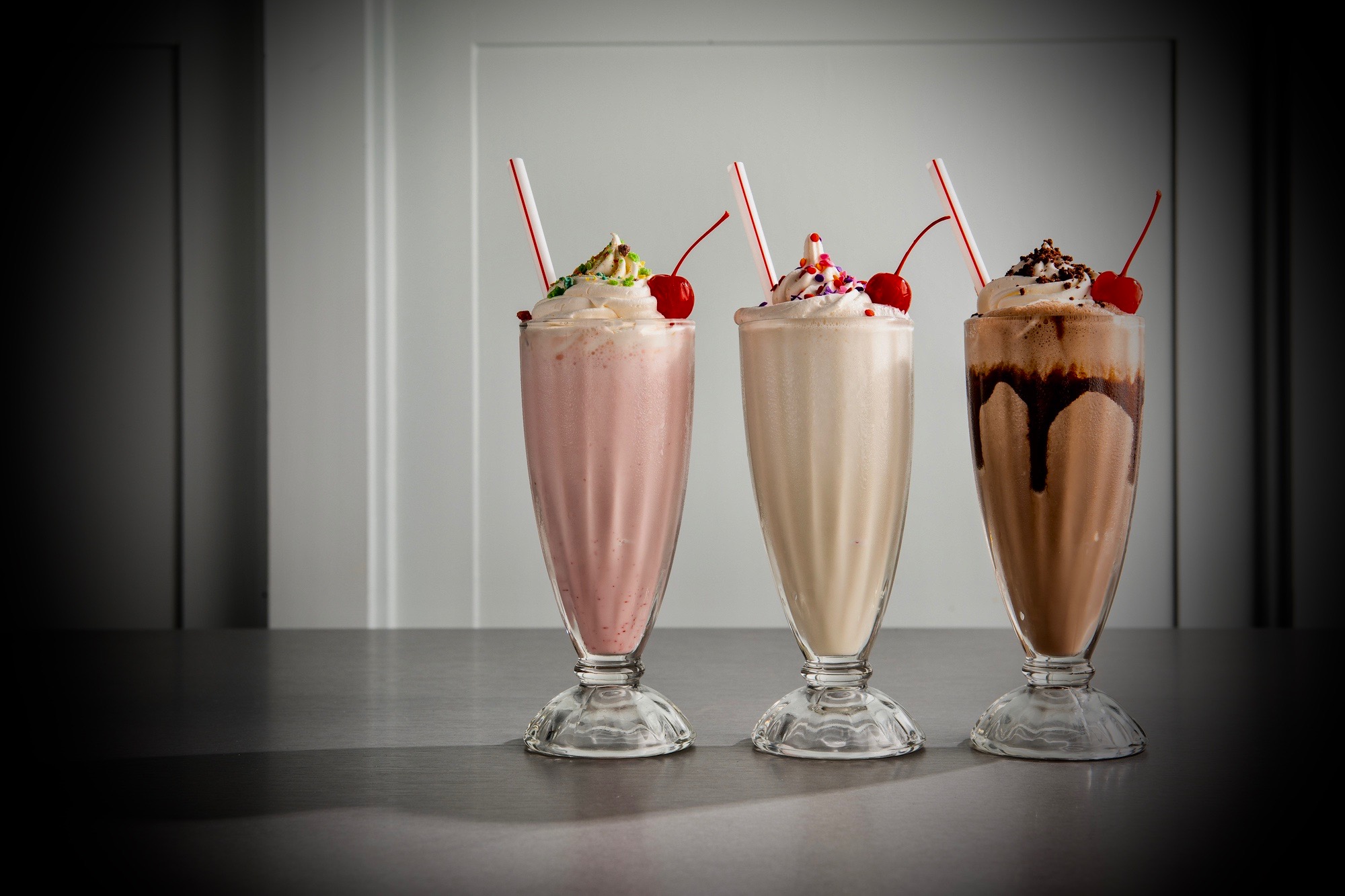 Shakes are available in Junior Varsity (JV), non-alcoholic as well as Varsity (V), with alcohol
$

11.50
Ambrosia Shake
Vanilla Ice Cream, Pineapple, Coconut, Mandarin Orange, Coconut Rum, and Marshmallow Fluff
$

11.50
Cookies and Cream
Vanilla Ice Cream, Chocolate Cake Crumbles, Vanilla Vodka
$

11.50
Peanut Butter Cup
Vanilla Ice Cream, Peanut Butter, Chocolate Syrup, Castries Peanut Rum, and Chocolate Vodka
$

11.50
Mounds or Almond Joy
Twist Ice Cream, Shredded Coconut, Coconut Rum, and Pisa for the Almond Joy because, sometimes you feel like a nut . . .
$

11.50
Over the Rainbow
Vanilla Ice Cream, Jameson, Baileys, Coffee, topped with a Rainbow and Skittles
$

12.50
Piccadilly Circus
Vanilla Ice Cream, Earl Gray Tea, and Bauchant Cognac
$

12.50
Dig Fust
Vanilla Ice Cream, Fig Dust, Fig Vodka
$

12.50
Booze Berry
Twist Ice Cream, Radio Boca Tempranillo, Combier Mure Liqueur, and a Fruit Loop Dust Garnish
$

12.50
Geisha Shake
Vanilla Ice Cream, Matcha Powder, Faber Vodka. You can opt to add a Yuzu Sake Floater if you are experienced.
$

12.50
Caramel Bourbon Bacon
Vanilla Ice Cream, Old Forester Bourbon, Caramel, and Candied Bacon.
$

12.50
Southern Lime Pie
Vanilla Ice Cream, Blue Chair Bay Key Lime Rum Cream, Southern Comfort, with a Graham Cracker Cuff
$

12.50
Vietnamese Coffee
Trung Nguyen Coffee, Borghetti Caffe Espresso Liqueur, Vanilla Faber Vodka, Coffee Crystal Dust Toppingv
A full bar with rotating draft beer, canned beer and wine is also available
Available in Junior Varsity (JV), non-alcoholic as well as Varsity (V), with alcohol
$

8.75 /

$

5.00
Coke Float
Chocolate Soft Serve, Rum, and Coca-Cola
$

8.75 /

$

5.00
Orange Float
Vanilla Soft Serve, Citrus Vodka, and Orange Soda Pop
$

8.75 /

$

5.00
Root Beer Float
Vanilla Soft Serve, Vanilla Vodka, and Root Beer
$

8.75 /

$

5.00
Cherry Float
Vanilla Soft Serve, Cherry Vodka, Maraschino Cherry Juice, and Soda Pop
$

4
Italian Sodas
three layers of fun come in every glass- the sparkling soda pop, the sweet syrup and the delicious sweet cream- ready for you to stir into a delicious treat. Available in: Blueberry, Caramel, Cherry, Coffee, Creme de Menthe, Hazelnut, Orange, Pineapple, Raspberry, Strawberry, Vanilla
$

2.25
Bottomless Beverages
Coke products and house-made Lemonade, Strawberry Lemonade, Iced Tea & Coffee
Punches
Premium Punches - by the glass or by the pitcher (serves 4)
$

8 glass /

$

26 pitcher
Senorita Sunrise
Stoli Crushed Pineapple, Triple Sec, Tequila, Rum, OJ and Soda
$

8 glass /

$

26 pitcher
Donkey Juice
Vodka, Rum, Orange, Guava, Passion Fruit and Pineapple Juices
$

8 glass /

$

26 pitcher
Margarita
Tequila, Triple Sec, Lime-Orange-Lemon Juice
$

8 glass /

$

26 pitcher
Rum and Coke
Cherry or Vanilla Syrup
$

8 glass /

$

26 pitcher
AP Crush
Stoli Grapefruit Crush, Lemonade, and Iced Tea
Brunches (Offered all day and night)
$

10
Sparkling Gems
Biutiful Organic Cava with your choice of dosage- Apricot, Peach, Raspberry, and Blackberry
$

7
Bloody Sunday
House-made Bloody Mary Mix featuring Long's Horseradish with your choice of Vodka or Tequila.
Upgrade to Stoli Jalapeno Vodka for $1
$

8
Maxmosa
RiJuice Citrus and Turmeric Blend with Biutiful Organic Cava
$

7
Aperol Spritz
Aperol, Hibiscus Liqueur, and Yulupa Sparkling Wine
$

7
Pimm's Strawberry Ginger Lemonade
Like a Pimm's Cup, but better
$

8
Mosquito
Faber Gin, Grapefruit Liqueur, and Rosemary Simple Syrup
Junior Varsity (without alcohol)
$

3
Shirley Temple
Ginger Ale and Grenadine
$

3
Roy Rodgers
Coca-cola and Grenadine
$

3
Hi-Ho Silver
Ginger Ale and Pineapple Juice
$

3
Don Ho
Ginger Ale and Cranberry Juice
$

3
Neal Armstrong
Orange Soda and Club Soda with a Tang Rim and a Citrus Satellite
$

3
Laverne & Shirley
Coca-cola and Milk
$

3
Marilyn Monroe
Club Soda and Passionfruit Juice